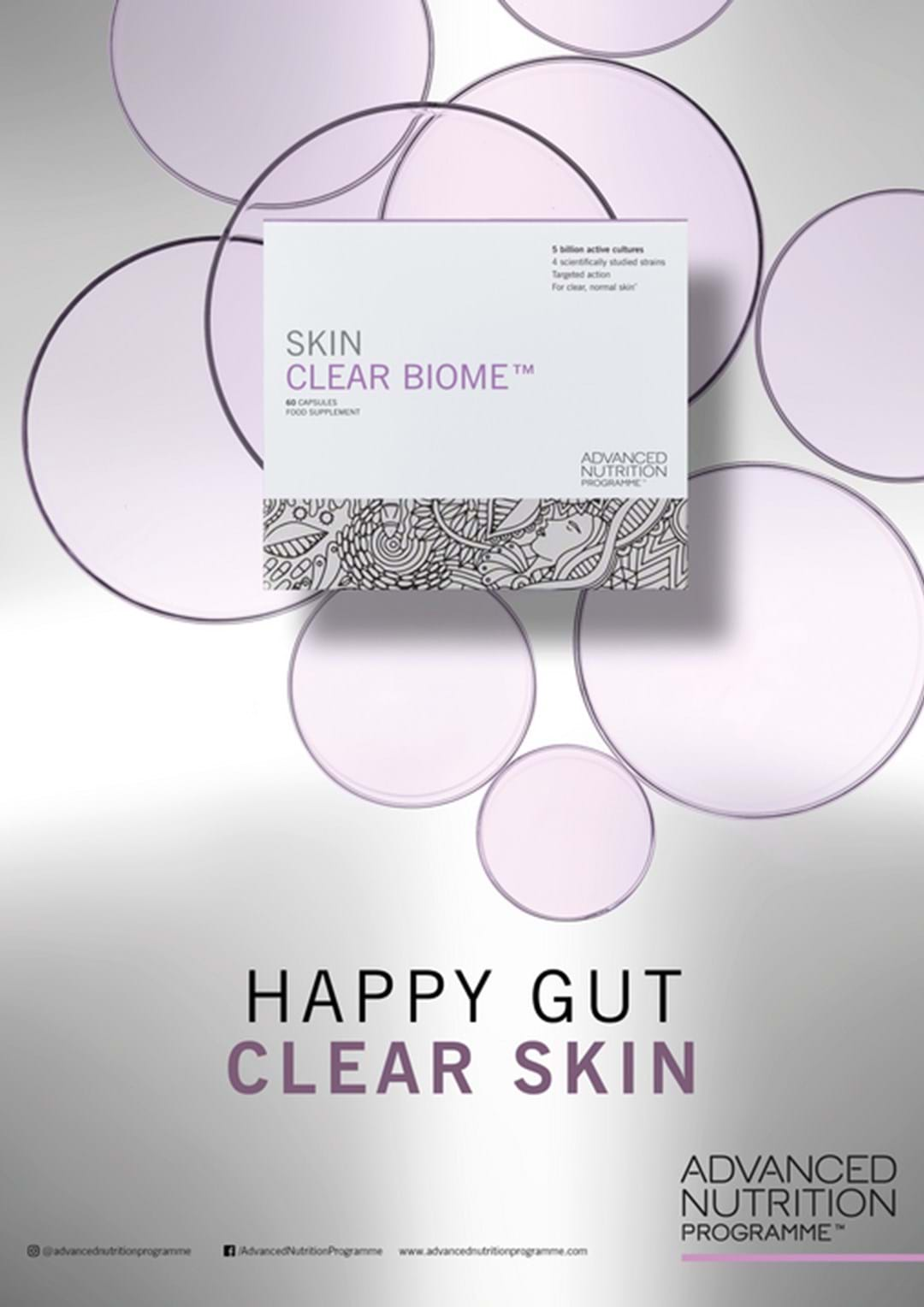 Introducing Skin Clear Biome™, suitable for you, you and you! This completely unique biotic formula has been specially researched and formulated to support not only digestive health, but also problem and stressed skin.
KEY BENEFITS
✨ Reduces sebum production⠀⠀⠀⠀⠀⠀⠀⠀⠀
✨ Reduces inflammation⠀⠀⠀⠀⠀⠀⠀⠀⠀
✨ Improves wound healing⠀⠀⠀⠀⠀⠀⠀⠀⠀
✨ Decreases stress⠀⠀⠀⠀⠀⠀⠀⠀⠀
✨ Supports gut health⠀⠀⠀⠀⠀⠀⠀⠀⠀
✨ Supports immunity⠀
Research shows if you can absorb your nutrients better, then your overall health is going to be better.
WHO IS THIS FOR
👉🏼 Problem skin
👉🏼 Blind blemishes (under skin bumps)
👉🏼 Oily skin
👉🏼 Rosacea/redness
👉🏼 Compromised skins
👉🏼 Aggravated skin
👉🏼 Stressed clients
👉🏼 For gut health, bloating, constipation
FAQ's
What is special about Skin Clear Biome?
Skin friendly bacteria designed to clear problem skin issues. Unique scientific synergy of 4 patented strains of bacteria combined with Zinc. Patent pending biome technology.
How do you take Skin Clear Biome?
Probiotics must be taken with water and food. Make sure you do not take them with a hot drink, they are alive and we do not want to boil them! Wait 30 minutes either side of a hot drink before taking them. Please do not take them with alcohol, they simply will not work.
Can Skin Clear Biome help with Dysbiosis (imbalance in the good and bad gut bacteria)?
Taking probiotics is highly recommended for anyone with Dysbiosis, we would suggest taking 2 capsules per day to kick start restoring your gut health. You can even take Skin Clear Biome as an intensive course after a strong dose of antibiotics, taking 6 capsules per day for 10 days.
Can I take Skin Clear Biome if I'm pregnant?
No, unfortunately they are not suitable during pregnancy, we would advise pregnancy specific supplementation care.
Why are they in a blister pack?
To ensure you get all the benefits of Skin Clear Biome they are housed in a protective matrix blister pack so that we know the active bacteria are still alive when they reach the area of the gut where they are most needed. Advanced Nutrition guarantee 5 billion strands of bacteria for the shelf life of the products (24 months). They are packed in nitrogen-flushed, aluminium pods, which means they do not need refrigeration.
Why are the strains of bacteria combined with Zinc?
Zinc is good for immunity, healing & hyperkeratinisation (sloughing of dead skin cells) making it a good pairing with bacteria for tackling problem skin concerns.
ANP Skin Clear Biome 60 capsules £55 are now available from our shop http://phore.st/BMIGQ