Medik8 Launch New Sleep Mask
Medik8 Launch New Sleep Mask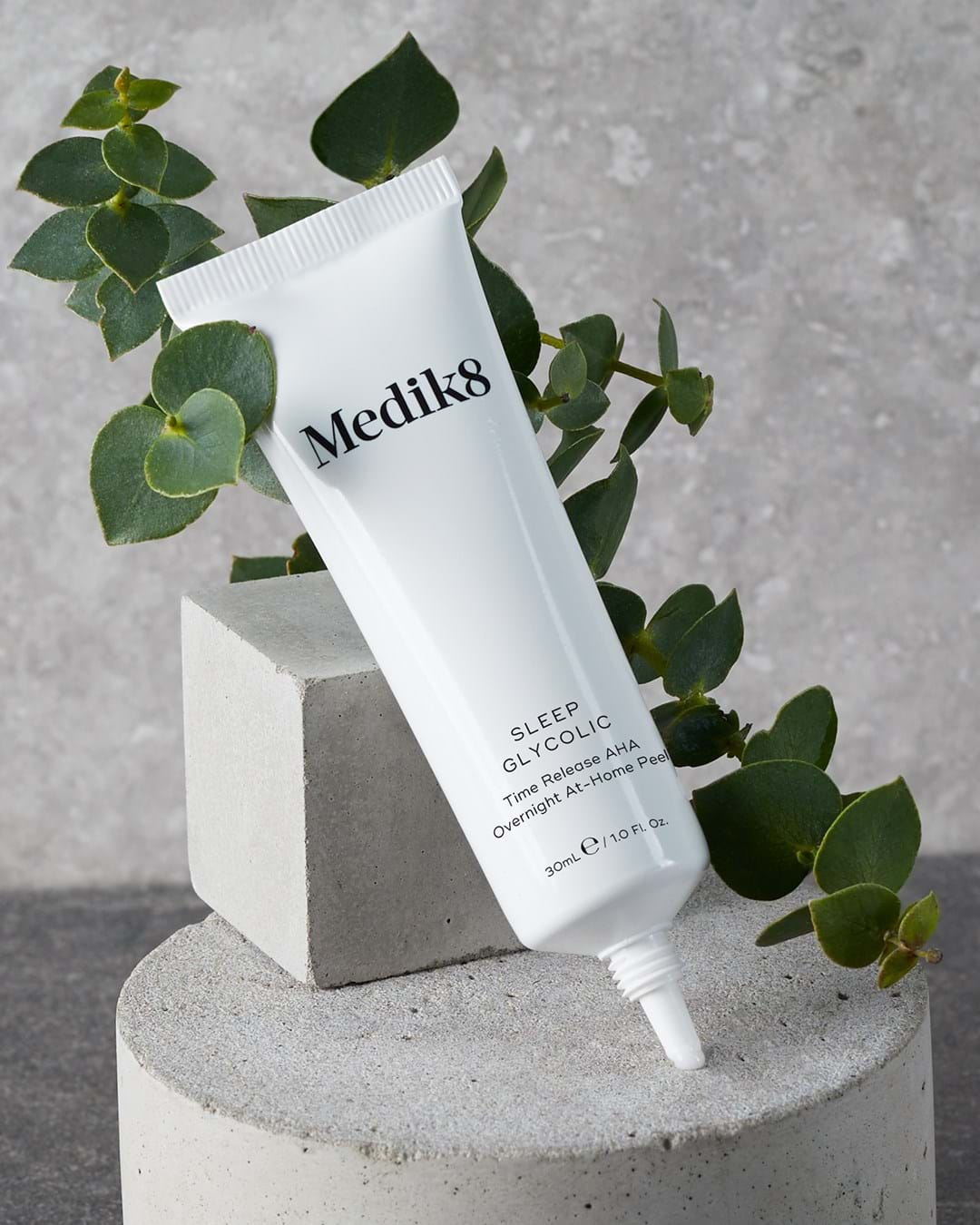 Sleep Glycolic has been developed to harness the effective exfoliating powers of glycolic acid without the downsides some home care glycolic based products may present on the skin.
KEY BENEFITS
✨ Visibly radiant skin
✨ Refined appearance of texture and tone
✨ Restored look of luminosity
✨ Hyperpigmentation is visibly lifted
✨ Maintains a healthy skin barrier
✨ Promotes a more youthful-looking appearance
Glycolic acid is the hailed as the gold standard of acids as it is extremely multifunctional, perfect for targeting ageing, scarring, photo damaged as well as congestion concerns.
It dramatically helps to rejuvenate and regenerate the skin cells from within. It has the smallest molecule size within the AHA family of acids, which means it will penetrate the deepest into the skin.
Helping to stimulate the production of type 1 collagen (our most abundant type in our upper layers of skin).
Sleep Glycolic is an at-home peel, with no downtime and no peeling. The acid is encapsulated and slowly drip-feeds into our skin whilst you sleep. It contains 10% true Glycolic Acid = high strength and high potency with minimal tingling.
IN JUST ONE MONTH SKIN TEXTURE AND TONE CAN BE COMPLETELY TRANSFORMED.
Sleep Glycolic is suitable for normal skin types, including congested skins, oily skin types, uneven textured skins and those prone to visible hyperpigmentation.
FAQ's
How do I use Sleep Glycolic?
Sleep Glycolic should be used 2-3 times a week and as a direct acid it should be the first step after cleansing in your evening skincare routine. Smooth a pea-sized amount onto the face, neck and décolletage, avoiding the eye area. Follow with other serums, leave on overnight and don't forget to always wear sunscreen the next day after using Sleep Glycolic.
Would you recommend Sleep Glycolic for sensitive skins?
This is a high concentration exfoliating acid product and whilst Medik8 have minimised any irritation from the acid, those with inflammatory skin conditions are likely to find Sleep Glycolic too powerful, particularly on broken skin. Its is not suitable for very sensitive skins, including inflamed acne, rosacea and eczema.
Can Sleep Glycolic be used alongside acne prescription treatments eg Tretinoin, benzoyl peroxide?
We recommend consulting with your dermatologist before using Sleep Glycolic with acne treatments. It contains a very powerful Direct Acid therefore it is unlikely to be suitable.
Can Sleep Glycolic be used when phasing in a new strength or type of vitamin A?
We would not recommend the use of Sleep Glycolic for new users of Vitamin A. While the effects of vitamin A are optimised to use with the Sleep Glycolic, we would always advise clients to allow their skin to get used to the Vitamin A before attempting to accelerate their results with this product. Once your skin is used to using Vitamin A every night then you can add in Sleep Glycolic.
Will Sleep Glycolic give me spots?
When you start using a new product which can increase the skin cell turnover, you might experience purging. The increase in skin cell turnover can cause debris trapped deep in existing clogged pores to quickly rise to the surface and appear as new spot. Purging is a good thing - it shows that your skin cells are regenerating quicker, pushing out any congestion and will ultimately lead to a smoother-looking, blemish-free complexion in the long run.
Can Sleep Glycolic be used alongside a course of Medik8 Peel?
We do not recommend the use of leave-on acids during our professional 12 Weeks to WOW course.
How long do I have to wait after having a single peel at The YOU Clinic before using Sleep Glycolic?
It should be avoided for 5-7 days following a Signature Facial with a Skin Peel add-on.
Medik8 Sleep Glycolic 30ml £35 is now available from our shop http://phore.st/SlETp